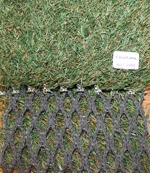 NRT 3002
CoverLawn® new member
A mix of the populair NRT 2500 and wear resistant CL 4003 has formed NRT 3002. With the flexible hexagon pattern, straight and curled piles combined, do we offer a quicker and mor cost efficient installation. Wear resistance equal to football CL 2802 and Golf CL 1201. The curled pile strengthen the anti slippery function that is excellent on slopes or uneven surfaces.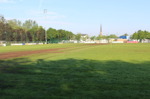 Gardi Zoo and ÅhusTurf installed CoverLawn® CL 2802 in Stade André Wolff, Bertrange Luxembourg June 6 this summer.
The pitch had got severe wear of entire pitch from goal to goal.
Stade André Wolff have one natural turf pitch that all teams in the club share. With CoverLawn® the playing surface should be perfect the entire season.
See pictures under Products
Installations
Slider NRT 2500, Golf courses CL 1201/2003/4003, Inner yards CL 2003/4, Fotboll pitches CL 4003/Inodlat, Wear areas CL 2003/4003, Bridges NRT 2500, Paths CL 1203, Play grounds NRT 2500/CL 4004, Grow in CL 2003/2004/4003, events NRT 2500
Exhibitions 2018
Jan 21-24 BTME Harrogate (Partners)
January 22-23 Stockholm
27/2-1/3 Tour Mid Sweden
March 5-7 Gothenburg
17-19/4 Tour North Sweden
20/4 Architect day Alnarp, Malmö
Sep 12-15 GaLaBau Nürnberg

Business Partners to ÅhusTurf
CoverLawn® global group
EZ Hybrid Turf Americas
GSTGlobal Korea, Asia
PFJ Company Japan
HG Turf Australia
Bellinturf China
ÅhusTurf Europe
Löddesnäs preschool strengthen their new play ground equipment with NRT 2500.
Läs hela inlägget »