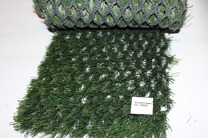 CoverLawn CL 2802
is our latest CoverLawn
development in the sports range. We have adjusted the pile height with the hole size in balance with the reinforcement strength. The combination allows usage when the growth period is low or in fallow. The piles as you can see are designed in a way that they want to straighten up but still do not interfer with the mowing. The result is to offer decent play ground even though the outer conditions are poor. CL 2802 can be used for all sports with natural turf soil. From August 2015 we can offer CL 2802 ingrown with grass delivered on coil.
Anti mosquito KM 2015
is the product that can save the beautiful summer evenings from mosquito invations. KM 2015 is a new unique developed artificial turf impregnated with capsules of natural substances of lime, citronella and lavendal to keep the mosquitos away.

The unique with KM 2015 is that the perfume will last for up to 2 years.
Note! If you are allergic to above substances please make your necessary precautions.
Dragmatta - Drag mat
| | |
| --- | --- |
| Measurement | 1.6 m x 2.0 m |
| Thickness +- 2 mm | 19 mm |
| Pile height +- 1 mm | 35 mm |
| Weight +- 1 Kg | 27 Kg |
| Design | Knitted Nylon |
| Warranty | 2 yr |
Drag mat is a brand new drag mat built on a robust flexible rubber mat with coated knitted CoverLawn NR 3500. NR 3500 with its wear ability but at the same time smooth flexible piles offers an effective lenient treatment towards the areas dragged.
NR 3500 is same CoverLawn as NRT 2500 but the piles are 35 mm instead of 25mm.
Prices exkluding VAT and freight