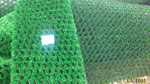 CoverLawn CL 1201
| | |
| --- | --- |
| Name | CL 1201 |
| Width | 2,4 m |
| Height | 12 mm |
| Pattern | 20 mm |
| Natural Turf | app 40% |
| Colour | Green |
Ecoinstallation pins are included in the price. 12 pcs per Sqm.
Installation cost is quoted separately
Adjustments to currency changes may occur.
Other colours can be produced towards quote and a 50% down payment.
Eco pins decompose after 48 months.
Warranty 3 years by normal use.
Prices exkluding VAT and freight.
Different clubs with CoverLawn on Tee. Pic 3 and 4 shows the diffrence in divot after hitting on CL 1201 and natural turf.
CL 1201 tests from 50, 75 respective 125 shots from exactly the same spot. We used an 8 iron. Date May 31 2014
CoverLawn CL 1201 tested during the SGA meeting in Ekerum
The picture sequence are:
1, 3 and 6 before competition.
2, 4, 5 and 7 after competition.
We were app 30 players.
New tests done on CL 1201 May 2014. 2 after 75 shots on same spot and 3 after additional 50 shots on same spot.