Värö-Stråvalla congregation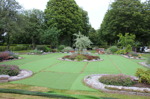 Hybrid turf to the cemetery is aimed to keep the calm atmosphere that the visitors are looking for. Winter time when the cold has arrived the grass lose its protection since the roots stop growing. Then CoverLawn is a solution supporting the grass during the winter and still keep the surface green and beautiful.
CoverLawn is a hybrid turf allowing the grass to grow through itself and then start an integration between natural grass and CoveLawn. Summertime your visitors will see a natural green lawn as they expect. Wintertime the visitors will still see a green natural lawn but the most exposed surfaces will have a content of hybrid CoverLawn.
The back side of CoverLawn is a knitted reinforcement that protect the root system during the winter season and at the same time offer a nice green surface to walk on. When spring arrives the grass roots wakes up and all starts to integrate again and a new green summer is waiting.